6 to 8 Wolsey Road Ashford TW15 2RB Factory Sold

Christopher Thomas are pleased to report the exchange of contracts in the freehold sale of Universal House 6 to 8 Wolsey Road – an office and light industrial premises of some 6,000 sq.ft. in a residential street close by to Ashford station (Waterloo line). The property started life just post war as a watch finishing business. The original building was extended by a two storey wrap around late 1940's / early 1950's substantial addition.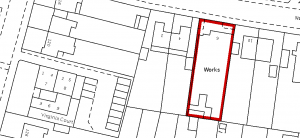 Offers were invited with strong interest, a freehold sale exchanged earlier this month.
Contact us for further information and expert advice in respect of the office industrial and retail market in and around Ashford London The Thames Valley and Surrey. T 01753 839390 or e mail info@chthomas.com

Established 1997