The Thames Valley Mega Region Property Forum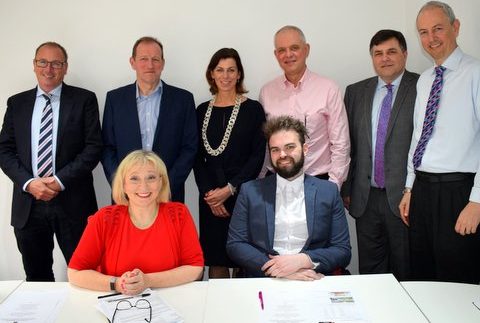 Thanks to The Thames Valley Property Forum and The First Tuesday Property Club, Christopher Thomas formed part of an important discussion group comprising Aberdeen Standard, The Thames Valley Economic Partnership, Edgington Spink & Hyne Architects, Retirement & Care Village Partners, City Fibre and Goldstein Legal followed by an event afterwards at Windsor Guildhall – where approximately 80 people attended a packed and most welcoming business lunch.
During a brief talk at The Guildhall, Chris highlighted some of the key discussion points – the major infrastructural changes and improvements taking place in the Thames Valley Mega Region whilst placing Windsor in more specific context :
Cross rail completion mid 2019 enabling 1.5 million additional people to reach Central London within 45 minutes.
The M4 super highway Junctions 3 to 12 due for completion 2022.
The Western Rail Link connecting from Windsor to Slough 5 minutes, Slough to Heathrow T5 , 7 minutes.
Heathrow Expansion First Phase Consultation finished. When the project is completed employment will reach 115,000.  At 98% capacity Heathrow currently handles 78 million passengers, the expansion will increase the capability to 130 million. This will leap the UK ahead of Paris and Frankfurt maintaining its Global position.
HS2 delivery first phase expected 2026, second Phase by 2032 opening communication to and from The Midlands and North with Birmingham at the axis point.
Windsor's Thames Valley position is undoubtedly The Jewel in The Crown of this mega region –
Its economy benefits  from 7.8 million tourist day trips annually with a tourism spend of just under half a £billion.
The town is under officed, needing more town centre stock. Rents have moved back and beyond their pre 1990's level of £35 per sq.ft. with the highest rent achieved in The Thames Valley last year at just over £40 per sq.ft.
The retail sector is performing well with recent take up from Farrow & Ball, Bang & Olufsen, The West Highland Clothing Company, Hoofs & Hides and Krispy Kreme …. with more announcements on the way. Excitingly The Windsor Yards retail scheme is also looking very positive.
More industrial stock is required a market sector which needs to be addressed.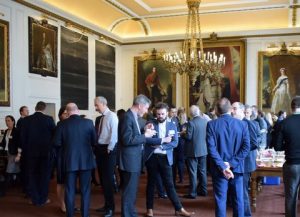 Some of the many gathered at The Guildhall networking event.
All are looking forward to Prince Harry's wedding 19th May once more highlighting Windsor's unique international recognition and appeal. A most dynamic place to live and work.
For a more detailed insight and for expert property advice do contact Christopher Thomas at Castle Hill House Castle Hill Windsor SL4 1PD telephone 01753 839390 or e mail info@chthomas.com

Established 1997
www.chthomas.com